The Roller-Coaster Ride into Retail was a Blessing in Disguise
The Roller-Coaster Ride into Retail was a Blessing in Disguise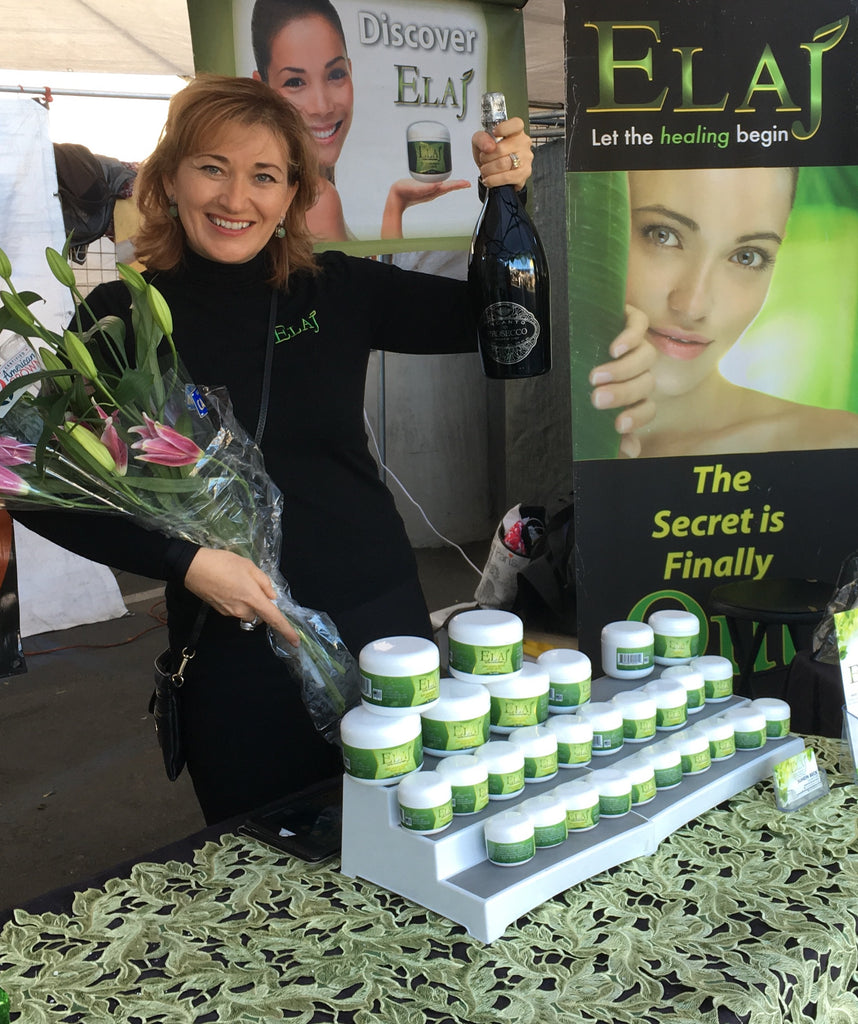 THIS is the story of the story of 
THE STORY!
It still gets me emotional replaying it over when I am speaking to startup entrepreneurs. YES - licensing is a great way to get your product on the market quickly without a Shark, a Loan or an Investor and without giving away ANY equity of your company!
Every WALMART nationwide + 1,000's of other stores! 
So this video details the entire journey from our first 5 years in the street fair and then BOOM, overnight in major stores nationwide. We filmed our National TV Commercial in 2 weeks and in 4 weeks it was airing! So exciting. We simply sent an email to our customers asking if anyone wanted to tell their healing story on TV. Boy oh boy - we were inundated! We filmed non-stop for two days in a hotel room in Laguna Beach overlooking the ocean. Then went to Florida and filmed there in a studio and made the Spanish TV Commercial with customers and a dermatologist that used ELAJ in Florida! (I'll post about that fun process next!)
Then, within 3 months we were in retail! I surprised my mother walking into a Bed, Bath & Beyond store in Mission Viejo, California and THAT was a moment! It's all here...I guess I just did a Spoiler Alert?!? No trust...there's a lot of plot twists in this video.  
So remember that first trade show we did right HERE at the Pro Beauty Association International Spa Salon Expo? Well...here I am actually teaching that class to other startup manufacturers a few years later! How amazing is that? I was so excited. 
BUT, behind the scenes - here's the back story. My videographer, Fred from Red Palm Video shows up with his roller cart of professional cameras and equipment at 8:30am. My class starts at 9am. We check in and they send us to the WRONG BUILDING in the Long Beach Convention Center! So we go underground with no elevator carrying Fred's heavy cart down the stairs. Yes I am wearing heals, still did not put makeup on, but now my hair is wimping out on me. 
I panic and can't find a living soul to ask directions. I run up and down the hallways to a security guard who says, "oh Ma'am, sorry you are in wrong building - that is across the street." NOOOOOooooOOO. He literally leaves his post and escorts us and my dripping hair to a secret passage bridge between the two buildings. It is only for staff, but holy guacamole - he got us there exactly at 9am! 
And of course the audio visual system are not working and the staff engineer is no where to be found. That's why when you see this, I fumble with the equipment and then surrender to my iPad and good ol-fashioned printout of my PowerPoint - Thank God I did that! 
I hide behind the screen in the corner left and put lipstick. I adjust my dress and wipe off my sweat and once I got mic'd I was IN the ZONE!  
I LOVE SMALL AUDIENCES! It's so intimate and you can see how responsive they were with great feedback at the end. They even got tears in their eyes when I teared up talking about how emotional this has all been. 
I am not one of those speakers that tries to put on a front. I tell it like it is with raw vulnerability because they need to know it's ok to be on top of the world one day and crash the next. And then get up again, put lipstick on and push through the pain, humiliation and financial struggles. 
Honestly, it was our customers that got us through it. Like this day back in the desert when Dr. Ken Sutherland and his wife, a dentist and loyal customer came back and surprised me with flowers and Italian Champagne to celebrate the victory of getting my company back from the licensing deal. 
As for being in retail, I am so happy WE DID IT! I got it out of my system. The American Dream (check box = DONE!) Every weekend, customers say, "you should be on SHARK TANK!" No thanks! I'm good. I have my company 100%. My customers are MINE! I earned them. I keep them. Now that we are exclusively online - the profit margin is do-able and we can survive. We are not greedy - we are building a legacy...and that takes patience and long-term consistency. We can be a small family owned business happily ever after. 
Thanks to YOU! 
Much love & gratitude.